Specifications
| | | |
| --- | --- | --- |
| Country | — | China |
| Province | — | Yunnan |
| Form | — | loose |
| Kind | — | Gun Tin |
| Taste | — | floral |
| Tea properties | — | invigorates, refreshing, for women, for men |
How to brew
Share
Orders are shipped next day
after payment is received.
Want to buy wholesale?
500g -
2250 грн.
1912 грн.
-15%
Description
Gong Ting or Palace Puer (宫廷 普洱 gong ting pu erh) is an aged Chinese tea from the Yunnan province that has a strong tonic effect with a fairly mild taste. Gong Ting Puer Tea will invigorate any sleepy organism, make the brain work and the body move.
This relatively young variety received such a striking name due to the high quality of the tea leaf from which it is made. The tea leaf was harvested in Xishuanbanna County in the spring of 2009. Five-year aging softens the harsh pu-erh flavors in the palate, allowing for a pleasant aftertaste.
This type of tea is made from young leaves and tea buds. As a result, it acquires a powerful soft taste and strong tonic effect
Sometimes Gong Ting Puer is called «Imperial Puer», but in reality it has nothing to do with the emperor's family and palace life. This is a very young type of tea
It is recommended to drink some time after meals to ease stomach work
Don't drink on an empty stomach
When brewing, it is important to rinse the tea in order to wash away the tea dust - the so-called «plaque of time»
To feel and appreciate all the delights of elite tea, the drink must be tasted correctly:
it should not be drunk hot, but moderately warm
do not swallow immediately, but hold it in your mouth for a while
and in order to conduct a professional tasting, it is better to try this: a sip of pure water - a sip of tea, etc.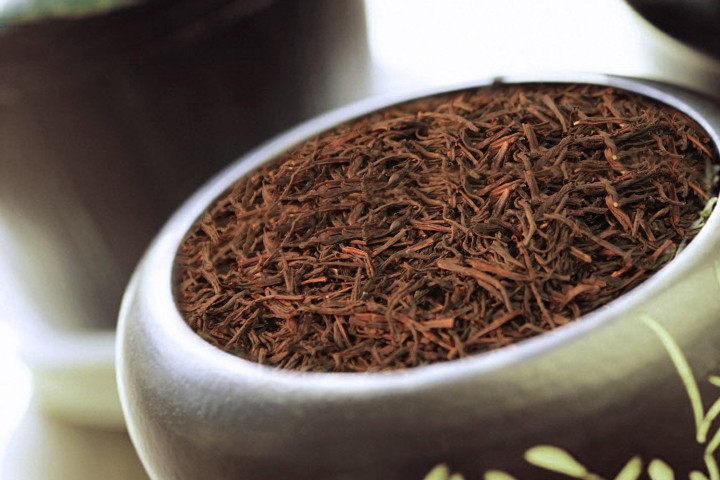 Making life better! Three reasons why you should have a cup of tea!
Cheerfulness and high efficiency are the main requirements for a successful, stable life. They are the ones that are «awarded» by a cup of aromatic tea.
Tea is always drunk for pleasure, which means that you regularly get positively colored emotions that give life bright colors.
Tea drinkers don't need caffeine - they get enough of it.
Specifications
| | |
| --- | --- |
| | China |
| | Yunnan |
| | loose |
| | Gun Tin |
| | floral |
| | invigorates, refreshing, for women, for men |
| | puer, without additives |
| | dark |
Reviews about product Shu Puer Gong ting (Imperial, Palace)
Leave a review
Comment
Отличный шу пуэр. Я не знаю, как называется это сырьё или метод приготовления, но он с плотным "круглым" телом, заваривается до нефти, и долго не выдыхается. Супер.
How to buy?
To purchase a product in our online store, select the product you like and add it to the basket. Next, go to the basket and click on «Checkout» or «Quick order».
When you place a quick order, write your name, phone and e-mail. The manager will call you back and clarify the terms of the order. Based on the results of the conversation, you will receive confirmation of the registration of the goods by e-mail and via SMS. Now it remains only to wait for delivery and enjoy a new purchase.
Checkout in standard mode is as follows. Fill out the form completely in successive stages: address, delivery method, payment, information about yourself. We recommend that you write information in the comment to the order to help the courier find you. Press button «Checkout».
Delivery methods
Payment methods
Our warranties
We only want to delight you with fresh Chinese tea, beautiful dishes. Therefore, we always meet. If for some reason the goods upset expectations, you can return or exchange it within 14 days.
Returns or exchanges of teas, tea utensils, desserts, gift sets in the store Miy Chay are possible provided that:
item not used;
full set of goods (utensils) preserved;
branded packaging safe and sound: there are labels, tags, stickers, sealed factory film, warranty;
there is a sales receipt of the store Miy Chay.
NOTE
The return shipping or exchange of goods is paid by the client..
How is the refund?
If you paid for the order by credit card, we will credit the money by bank transfer to the same details within 3 calendar days from the date we receive the return.