Bound tea-the pleasure derived from the exotic beauty of blooming flowers!
Bound Chinese tea is something amazing, special, truly exotic. Intrigue, mystery, rich aesthetic beauty ... Unique taste and aroma properties… All this applies to the one-of-a-kind, tea type that gives true pleasure from tea drinking, both gourmets and connoisseurs of classic teas.
Agree: there are drinks in the world that are worth trying at least once in your life. Especially if they have tremendous healing properties. Related tea just belongs to this category. And not only because it is an elite variety of the legendary middle Kingdom, but also allows you to enjoy the original splendor with each brewing. Looking at what is called "knitted tea", you start to really be surprised by the Eastern exoticism. Related tea can be purchased in Ukraine in a specialized store «Miy Chay», which provides products directly obtained from the tea provinces of the middle Kingdom.
What is Chinese bound tea?
This is a tightly bound ball, a Bud consisting of dry tea leaves of green, white, and red varieties. Beautiful scented inflorescences of Jasmine and Camellia, peony and rose, chrysanthemum and calendula are added to the twisted forms. The process is carried out exclusively by hand by skilled Chinese craftsmen (1 bundle is made up to 10 minutes). Shapes can have a variety of shapes: balls, rings, hearts, Chinese lanterns, fish, and even dragons. The more complex the composition, the higher the price of the product. A bundle can contain one or more flowers.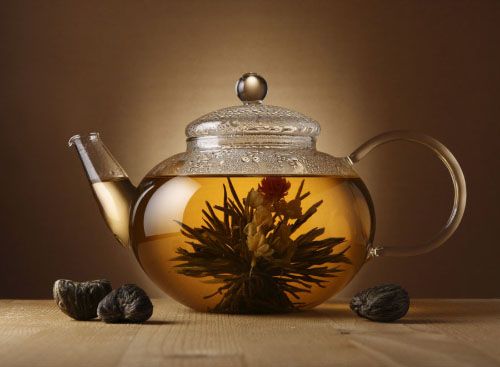 Tea raw materials are collected only in the rainy season and processed during the day: fermented, twisted and dried. To bind the necessary ingredients with silk or cotton threads, tea leaves of the same length should be flexible, soft (not breaking). Ready-made compositions have not only different shapes, but also weight – from 6 to 10 grams.
Each "flower" is exclusive. Tea bound by its nature can not be repeated! Despite the fact that the Chinese prefer automated production processes, in this case it is simply impossible. Here the value lies precisely in the manual creative process that each knitter demonstrates. As a result, during the brewing process, each of us can enjoy a surprisingly beautiful sight: from the hot water, the buds are exquisitely blooming, turning into exotic flowers! Drinks have refined, delicate, soft tastes, accompanied by fragrant aromas and a sweet aftertaste. Of course, the taste and aroma directly depend on the tea variety and flower used.
Whimsical compositions that bloom in the water are often called works of art. They began their history in ancient times, under the rule of the song dynasty (960-1279). in those distant times, the tea cult reached its peak. And it was then that tea craftsmen at the Imperial court began to pamper the reigning monarchs with "knitted flowers" that changed with each brewing. Since then, production technologies have not changed. The shapes have become more diverse, but in General, the use and beauty of the balls has remained the same. To buy bound tea means to give yourself minutes of a bright, prosperous life!
Useful properties
Since each "Bud" consists of an elite Chinese tea variety, it means that it certainly has useful substances that have a positive effect on the body's work.
All tea leaves have a share of caffeine, so to tone and stimulate physical activity, the drink is given by nature
The presence of tannin elevates it to the rank of "antioxidants" that rid the body's cells of the negative effects of free radicals.
If the "flower" is created on the basis of green tea leaves, then it has all the useful properties of this variety (see the material in the topic "green teas").
Do not forget about the inflorescences! Each has well-known healing, preventive and restorative qualities.
Each ball, regardless of its composition, has a positive effect on mental and physical activity, relieves headaches, moods, and bad mood. A few SIPS of Oriental nectar, and Your inner state does not just improve, but becomes calm, peaceful, relaxed.
As for contraindications and side effects-everything is individual. Affects the tea variety and flower. There are cases with individual intolerance, but this is more rare than a pattern.
Tea can be purchased and ordered easily and simply in «Miy Chay». A few minutes, a couple of days for delivery, and on Your table defiles an interesting composition that knows no equal!
How to brew Chinese bound tea correctly?
First of all, you must tune in to the contemplation of amazing beauty! Don't think that these are just words. When the balloon is exquisitely blooming in the water, it turns into a beautiful flower that is considered a symbol of love and well-being in China. On the territory of the middle Kingdom, it is customary to brew bound tea at the most solemn moments. Ukrainians, lovers of luxury even in everyday life, often indulge in its exotic aesthetics, even in the most ordinary evening spent with family or friends. By the way, buying Chinese bound tea is a great occasion to once again gather with dear people and give the atmosphere a virtuoso feature. Believe me, no one has ever ignored this miracle of nature and human skill. The opening of each Bud is remembered for a long time!
So, buying bound tea is one thing, and brewing it correctly is another. There are several rules that cannot be ignored. Otherwise, not only will the aesthetic beauty be violated, but also the taste and aroma properties will be spoiled.
Rich beauty will become available to You only if a glass vessel is used for brewing. Its transparent walls allow you to observe an interesting picture-the opening of the Bud in all its splendor.
At the first stage, the dishes are scalded with boiling water, thereby warming up. Then pour boiling water, not exceeding 85°. Pressed tea is carefully placed in it. Remember: if the procedure is done the other way around, the flower may be damaged, crumble.
Optimal calculation: 1 ball per 250 grams of purified water.
Infusing time: from 3 to 5 minutes. During this period, the leaves will gradually begin to swell and open. Before Your eyes, the volume of dishes will be filled with a picturesque picture: white and yellow, red and orange, blue and blue flowers will begin to appear. Believe me: from this spectacle, even the most reserved people come to a sincere delight and rejoice at what they see, like small children.
When the Bud is fully opened and dropped to the bottom of the kettle, you can enjoy a fragrant and delicious drink, fragrant with pleasant notes.
Where can I buy bound tea in Kiev?
In the store «Miy Chay», whose specialists will provide all the comprehensive information on any tea direction! It is striking, but a fact: despite the elitism, the price of tea is allowed for every Ukrainian family. This is really pleasing!
Linked tea in the online store «Miy Chay» is sold with both one and several colors. Therefore, You always have the opportunity to surprise yourself with a new exotic look and new taste and aroma properties.
Chinese bound tea to buy means to arouse the increased interest of relatives and friends! Agree: not every home turns a traditional tea party into an original ritual, accompanied by increased emotions on the part of each person present.