Everyone wants to buy white Chinese tea, because the most delicate leaves are used for its production. This drink got its name due to a special type of tea Bud, covered with a thick pile of white color. It is important that it contains a number of important components:
caffeine, which has an invigorating effect on the body and stimulates the nervous system;
vitamin C. Strengthens cell membranes and helps fight colds;
thiamine. It is recommended to use it to restore the intestinal microflora and prevent diseases of the gastrointestinal tract.
White tea from «Miy Chay»– a bargain purchase of real Chinese tea!
White tea will be able to surprise a wonderful taste of the most fastidious tasters. And this is even with repeated brewing! Offered by our online store on white tea price will certainly please every buyer.
On the website «Miy Chay» You can order tea «Show Mey», or «eyebrows of the elder», which is a type of tea "Bai Mu Dan". This drink has been known since the time of the emperors: they deserved to appreciate it for its refined taste and unusual appearance. Tea leaves are collected in the early morning on plantations in Fujian province, after which they are steamed and dried, subjected to low oxidation and minimal temperature treatment. Therefore, the product meets all manufacturing standards and storage technologies.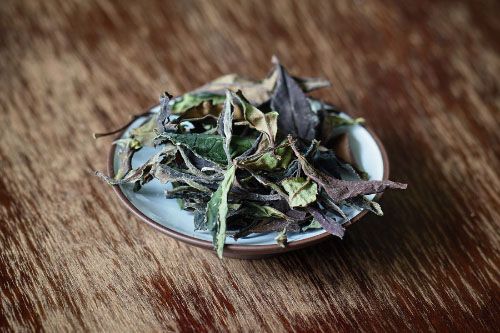 We have buy white tea (Ukraine) You can easily add the product to the "Basket", and soon You will be able to sit with your family for a Cup of fragrant drink. It should be said that real experts and connoisseurs of tea ceremonies advise you to drink this tea unchanged, that is, without adding milk, because it destroys all the nutrients of the noble drink. However, during the brewing process, you can use lemon slices: it will set off the taste even more.
Interesting facts about Chinese white tea
Typing in any search engine query "white tea reviews", we can conclude that both beginners in the elite tea industry and professional tea lovers, at the first acquaintance, white tea conquers with a delicate, refreshing taste, accompanied by fruit, floral and honey flavored notes. Although many believe that this drink needs to "grow up". I would like to say that these exclusive Chinese varieties of high quality have rightfully earned the title of "refined". No wonder at the initial stages of their production, white teas were available exclusively to Chinese emperors and rich people of the middle Kingdom. However, more than 880 years have passed since the beginning of the tea culture of this drink. Times have changed, and to our joy, today refined, noble nectar is available to many. To the question: how much does white tea cost? By far the answer is: not cheap. Everyone should understand that elitism cannot be universally accessible. Although, if you look at it, even a person with a small salary, who knows how to save money, can afford to repeatedly drink a Cup of this unique tea. Dreams come true! The main thing is to have an irresistible desire to get what you want.
Buy white Chinese tea in "Mi Tea" - means to buy an authentic product, originally from the provinces of Fujian and Yunnan. These "beautiful girls", with picturesque landscapes and constant fogs, fill tea leaves with an undeniable wealth: not only elegant taste and aroma properties, but also healing power, which positively affects both the physical and psychological state of a person. Those who live in these provinces are proud of tea, and believe that only in this territory is the true product grown. Everything else is "a hint of similarity". Buy white tea in the catalog "Miy Chay" - the belief that in Ukraine there are really sellers offering natural products from distant provinces of China.
Let's say that the price of white tea attracted You more in another store. This is quite possible with a huge number of Internet resources. Wherever you place an order, You must make sure of the quality of the raw materials. Only in this case, Your choice will be considered correct and profitable. At the initial stage, you can read materials on the site related to the topic "white tea reviews". However, it is best to make a mini-order and make sure that the product is natural.
If you buy white Chinese tea in "Miy Chay", You will be able to make sure of the following: Each variety is special, but they all share the same taste: soft, light, tender, without saturation. This tea type will not surprise your neighbors or friends who regularly drink classic black tea. To truly appreciate it, you need to be a kind of aesthete, a gourmet, a connoisseur of subtle flavors. Scents are also susceptible to subtlety and tenderness. In these "bouquets" You will be able to catch honey-woody notes, complemented by a floral-fruit Alliance.
White tea in the online store "Miy Chay" has a different price, depending not only on the variety and weight, but also the aging time. According to Chinese tradition, selected raw materials are aged in the villages of tea provinces from 2 to 4 years. During this time, not only the taste, aroma and color of the infusion changes, but also the cost. Every year "plus" 30% to the original cost. Therefore, if you see that the price of white tea is much higher-specify the year of collection and the aging period.
For fans of experiments and extraordinary personalities, we offer: treat yourself to an amazing drink of "own" aging. To do this, you should not fly to China and live there for several years. It is enough to buy Chinese white tea, pour it into paper and wrap it in a tight package. Then put the valuable product on a shelf with books (preferably between them) and forget for at least 2 years, ideally – for 4 years. After this time, You will be able to see how much the properties of the elite drink have changed, and how much contrast it has changed. This is a good reason to give in to "time travel". Tea with this drink will make You plunge into the world of memories and times when the original purchase was perfect.
If you decide to buy white tea, You should know some of the features of its storage. These fine varieties are very susceptible to foreign odors. They instantly absorb them, losing their own superiority. Therefore, storing them in the same kitchen Cabinet with coffee, spices and other teas is contraindicated. Select a separate place! Place the dry raw material in a tightly closed container. It is better if it is a ceramic or wooden pot with a sealed lid. Keep it in a dark, dry place, and the elegance of white tea will tempt and impress You for a long time! They say that if you store it in this dish at a temperature of 10-15°, it can not only save, but also significantly improve its taste and properties for more than 10 years. To convince you of this, you need self-control and appropriate conditions.
You can make a certain conclusion: white tea to buy in Kiev is quite simple – you should "walk" through the catalog "Miy Chay" and choose: or hit-sales - White tea Bai Hao Yin Zhen (Silver needles with white hairs) either White tea Show Mey Flatbread (longevity Eyebrows) – an inimitable variety, which is recommended to start acquaintance with white, fantastically beautiful, teas.
But gourmets believe that the tips are good, but everyone finds their own tea. And here the role is played not by fashion and demand, but by your own taste preferences. Try and pamper yourself with the "Imperial" drinks of the middle Kingdom!