English tea - the aristocracy of the tea world
Content
A History of Noble British Tradition
Tea drinking traditions
How do you drink elite English tea?
Each of us knows about the addiction of the British to drink tea. And they can do this several times a day. And what is their famous "five o'clock tea" worth. Many people dream of visiting this unique country or have already visited it only to participate in traditional tea drinking with the locals. There are very few countries where, just like in Britain, this aristocratic drink is adored. Among them are China and Japan. But, how and when did the tradition of drinking English tea appear? We'll talk about this later in the article.
History of a noble British tradition
Real English tea has a delicate and rich taste, persistent pleasant aroma, drinking it means enjoying every sip. The British drink this drink at any time of the day, at business meetings or with friendly gatherings. Tea drinking is one of the elements of all meetings of these people.
English tea is a global brand whose history dates back to the colonial era. During this period, Indian and Ceylon tea leaves were imported into the country. The products were then mixed and sold. Thus, Britain became the place from where tea was shipped all over the world.
At first, the product was considered a drink of aristocrats, but since Thomas Twinin opened his tea shop in 1717, the product has become available to the average customer. The peculiarity of the inhabitants of the British Isles is that they drink English tea with milk, cream or sugar, served with cookies or other sweets. Traditional English tea is drunk modestly, enjoying every moment of tea drinking.
It is worth noting that while tea leaves were a huge rarity in Britain, people used it for medicinal purposes in small doses, as it perfectly invigorated and added strength and energy.
The main elements of the ritual were borrowed from the Chinese, down to the dishes, which were delivered from there. Elements of dishes were considered a luxury, and not everyone could afford to buy them.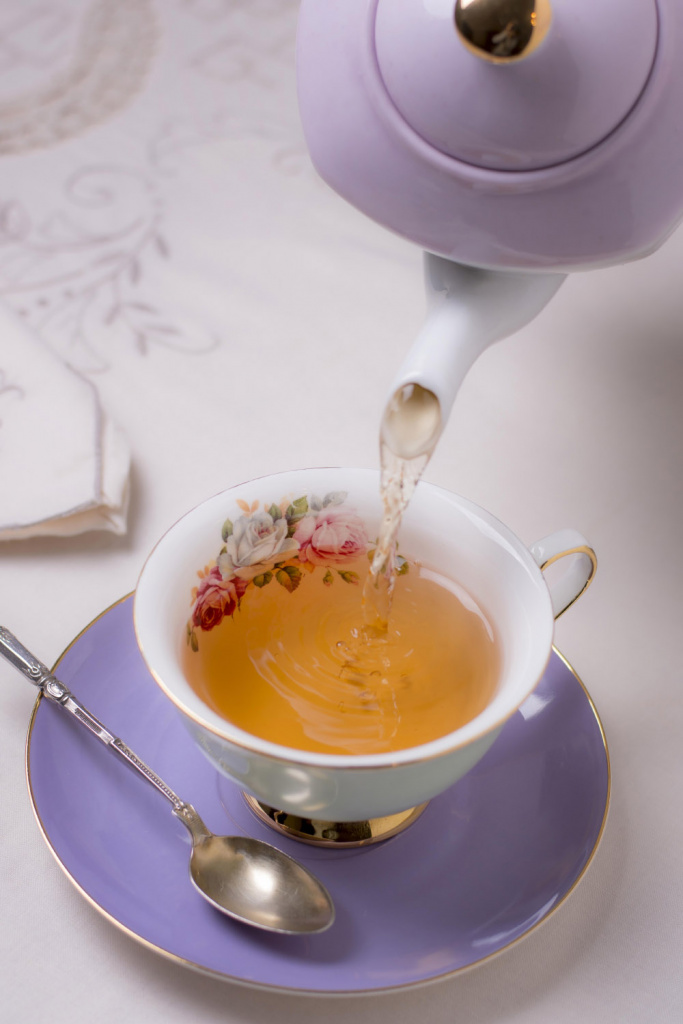 Tea drinking traditions
Everyone knows the exact time of taking this drink is 5 pm. At this time, family, friends or acquaintances gather at the table to enjoy the delicate notes of the best English tea and discuss all the news of the day and plans for the next day. Moreover, this drink is served strictly at the agreed time, no later and no earlier. Of course, this is far from the only period of the day when people enjoy peace and tea. They do this for breakfast, lunch, and dinner.
Britain has long been recognized as the country of tea, and is very proud of it. But what brands of English tea do lovers use? There are many of them, but there are a few especially popular and widely used. Among them are Lapsang Souchong, English tea with bergamot and milk, Jarjeeling varieties, Rose Garden, English breakfast, Assam.
Earl Gray is considered the most popular. The highlight of this product is the addition of bergamot oil, which makes it taste slightly sour and gives it an unusual persistent aroma. It has been 150 years since its birth, but this variety of English tea has not lost its popularity, it is adored and revered in different countries of the world. Only manufacturers are trying to improve this type of drink, to make it even more tasty and attractive. Therefore, today there is a tea for women with a delicate, mild taste with elements of lemon and orange.
English Darjeeling tea has a delicate nutmeg flavor, and due to its light shade it resembles champagne wine. This type of drink is best consumed after dinner.
English tea brand "Assam" refers to Indian varieties for creating blends. In its pure form, it is better not to use it, since the product is very strong, and not everyone can drink it.
The name "English Breakfast" speaks for itself. It is better to drink this tea in the morning. This is an invigorating drink that is best consumed with milk, cream or sugar.
In addition, the British like to drink English tea bags, and not just the custard version. Such a product is very quick and convenient to prepare by sending the required amount of crushed leaves in a special container to boiling water. In just a few minutes, a delicious and tonic drink is ready to drink.
People have been drinking English black tea, bergamot tea or green tea for centuries and are proud of their unique tradition known all over the world. That's why, often recall this in proverbs, everyday conversations.
How do you drink elite English tea?
Before buying English tea, each person should get acquainted with the tradition of drinking it. And also, if you do not want to embarrass yourself among the indigenous people of this country, it is better to remember a few simple recommendations and enjoy a drink that comes from the past:
First, you need to greet all the people present. Leave personal belongings on your knees or on a chair behind your back.
Knees should be covered with a napkin, and when you get up, leave it on a chair.
Before pouring English green tea, with bergamot or black, add sugar, lemon or milk to the cup, and then only the drink itself.
The product is drunk with buns or cakes, other sweets are consumed after.
You must not extend your little finger when holding a cup. This indicates your bad manners. Also, do not put the spoon in the cup, leave it next to the saucer.
If you follow these recommendations, the English will accept you into their social circle, and you will leave behind a pleasant impression of a well-mannered person.
The ceremony of receiving tea in Britain differs significantly from the Chinese or Japanese. Here, the leaves are not customary to brew, it is insisted for several minutes. Almost any brand of product can be drunk with additives.
And you can buy English tea almost everywhere. But it is best to use the services of reliable and proven companies, therefore, we recommend visiting our online tea store and choosing the option that suits you in terms of price, quality and taste.