Kudin tea: useful properties and brewing
Content
Interesting facts
Useful Properties
How to brew?
Cost of kudin tea
Summing up
Kudin is a Chinese tea made from the leaves of the kudin bush. They grow at altitudes over 1500 meters in the Yunnan province of southwest China. This drink is known for its bitter taste and aroma, as well as many health benefits. It contains high amounts of vitamins and minerals such as iron, magnesium, potassium, sodium, vitamin C and vitamin E.
In addition, tea has many health benefits. It helps improve digestion and lower blood pressure, as well as helping reduce the risk of cancer and cardiovascular disease. Let us consider in more detail the properties of kudin tea.
Interesting facts
Interestingly, kudin tea is used not only as a drink, but also in cosmetology. The oil extracted from the leaves of the plant is used in creams and masks for the face and hair (and is reported by users to improve their condition), as well as reduce wrinkles and other signs of aging.
Thus, buying kudin tea is a great idea for those who have not tried it yet. It is not only a delicious drink, but also a generous source of many health and beauty benefits. It has been a popular drink in China for over 1000 years, and has recently become popular all over the world.
In addition, Vietnamese tea kudin has a rich history. Its origin is associated with ancient Chinese medicine, where it was used as a medicine for various diseases and as a means to increase vitality. This drink was popular among the monks, who used it as a means of meditation and concentration.
But that is not all. Kudin tea can be used not only for making a drink. It can be used as a seasoning for various dishes, such as meat or fish starters, giving them a unique taste and aroma. In addition, it is used as a base for making various sauces and even desserts.
It is important to note that kudin tea is not a medicine and cannot replace a full-fledged treatment for diseases. If you have any medical conditions, consult your doctor before drinking the drink (this applies to all herbs and medicinal teas). However, its use as an additional source of nutrients can be beneficial for your body and contribute to overall health.
Useful properties
Consider why many choose kudin tea, properties:
Cholesterol tea is useful
The drink contains substances that can lower the level of cholesterol in the blood (a high level of this substance can lead to various cardiovascular diseases, so lowering its level is an important aspect of a healthy lifestyle). The flavonoids found in tea improve blood quality and prevent blood clots, which improves the overall health of the body.
Improve blood circulation and lower blood pressure in hypertension
Studies show that drinking bitter kudin tea improves blood circulation and lowers blood pressure in people suffering from hypertension. This is due to substances that dilate blood vessels and improve blood circulation. In addition, the composition of the drink contains potassium, which helps to balance the level of fluid in the body and reduce the workload on the heart. That is, kudin tea for hypertension should be consumed on a regular basis.
Reducing the risk of cancer
Kudin tea contains antioxidants that help protect body cells from damage and reduce the risk of cancer. A large number of antioxidants strengthen the immune system and protect the body from various diseases. kudin tea with oncology generally has a positive effect on the body.
Help in the fight against excess weight
The drink helps speed up metabolism and improve digestion, which helps in the fight against excess weight. The substances contained in tea are able to reduce appetite and control hunger attacks, which is useful for those who choose kudin tea for weight loss. The drink stimulates the elimination of toxins from the body, which helps to reduce fat accumulation and improve overall health.
Kudin tea can reduce stress levels and improve mood. As you know, stress can lead to overeating and weight gain, so this indicator is an important aspect of a healthy lifestyle.
In addition, the use of this wonderful drink improves the quality of sleep, which also has a positive effect on overall health and weight. Women and men of all ages confirm that it helps to cope with insomnia. The beneficial properties of kudin tea are responsible for this.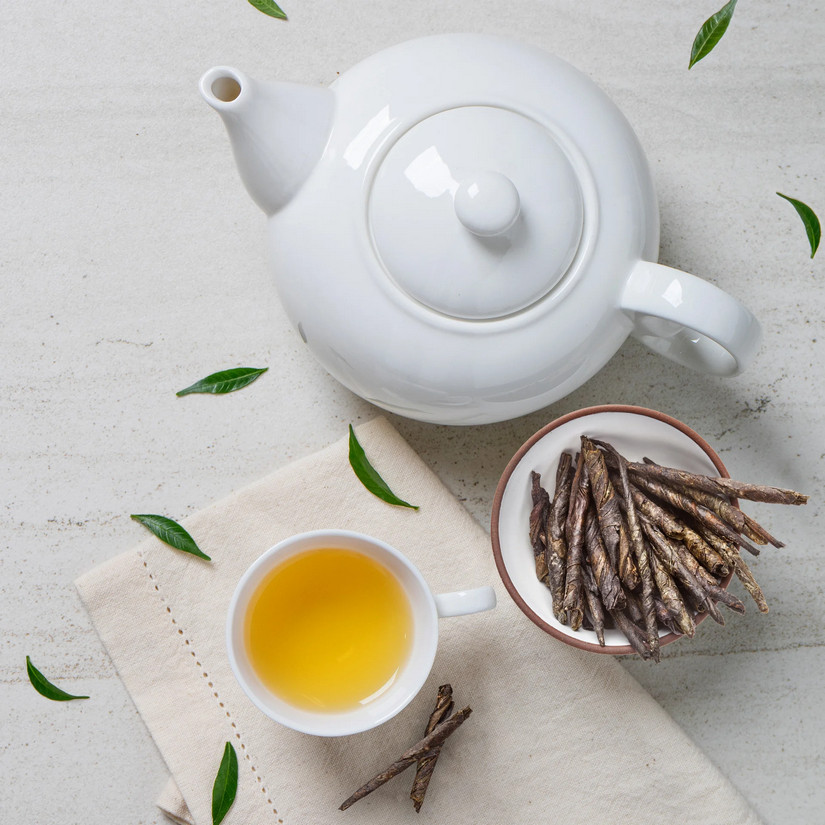 How to brew?
To get the maximum benefit and appreciate the beneficial properties of kudin tea, you should follow a few simple rules when brewing it:
Take one teaspoon of dry tea leaves to one cup of water. To make more tea, increase the number of leaves according to the number of cups.
Before steeping tea leaves, rinse them with cold water. This will help remove dust and other contaminants.
Pour boiling water over the leaves and let it brew for 3-5 minutes. If you are brewing a drink in a kettle, make sure that the water does not boil. The ideal temperature is +80-90 degrees Celsius.
Strain the infusion and you can enjoy the original taste. Chinese kudin tea can be drunk both hot and cold. The main thing is not to rush anywhere and enjoy every sip. This is a special ceremony that needs to be mastered.
Proper brewing reveals, on the other hand, Chinese kudin tea and its properties.
Coudin tea price
To buy kudin tea, you should visit a specialized online store. This is convenient, because you can place an order "in one click". The buyer has the opportunity to get advice from sellers who will help you choose the most suitable option.
The online tea shop offers a large selection of Chinese tea from various manufacturers. You can read the reviews and choose the most suitable option for yourself.
The price of kudin tea in our country may vary depending on the product and packaging of which manufacturer you choose. To buy kudin tea in Central Asia is within 10 euros.
Also, do not forget that the price may vary depending on the season, the quality of the goods and the region of collection. Therefore, before buying, it is recommended to study all the questions regarding tea on our website. This will help you find the best deal for you.
Summing up
It is important to note that kudin tea has beneficial properties that can improve well-being and health. The drink has a calming effect, helps relieve stress and improve sleep. Also, this tea contains many beneficial vitamins and minerals that can strengthen the immune system and improve overall health.
Kudin green tea is a great opportunity to improve your health and enjoy the taste alone. Without exaggeration, this is a real treasure for those who care about their health. For example, it can help fight colds, help boost immunity, increase energy levels, and even improve digestion.
If you haven't tried tea yet, now is the time to do so. Brewing brings no less pleasure, because you want to do everything right. In fact, it is easy and even the one who hears about Vietnamese tea for the first time can cope with the task.