Specifications
| | | |
| --- | --- | --- |
| Country | — | China |
| Province | — | Anhui |
| Form | — | loose |
| Kind | — | Liu An Gua Pian |
| Ingredients | — | green tea, without additives |
| Variety | — | light |
How to brew
Share
Orders are shipped next day
after payment is received.
Want to buy wholesale?
500g -
2300 грн.
1955 грн.
-15%
Description
Lu An Gua Pian Green Tea is one of the ten most popular green teas in China. It grows in the Chinese province of Anhui at an altitude of 600-700 meters above sea level. Its tea leaves are large in size, similar to pumpkin seeds, and it is because of this similarity that he got his name. The color of tea is green, dark emerald. Its taste is thick, refined, with a sweetish floral aftertaste and orchid aroma. This tea does not use buds or stems. The collected leaves are folded so that their bright side, which was facing the sun, is inside. After roasting, its outer side becomes dull, and the middle becomes bright green.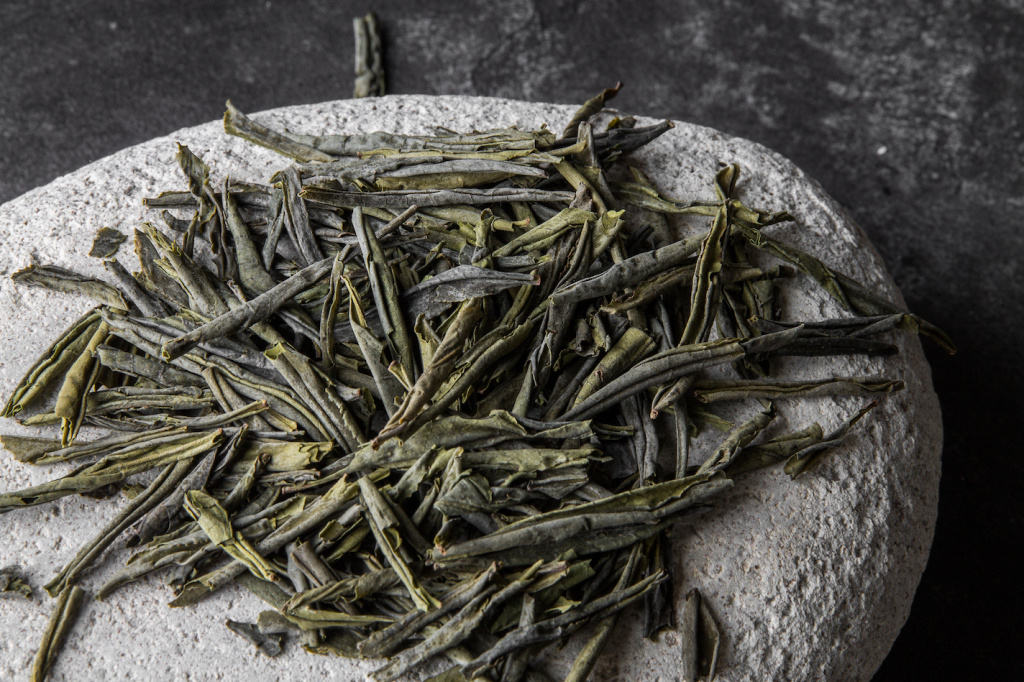 Tea Pumpkin Seeds relieves stress, clarifies thoughts and increases efficiency. It gives energy, vivacity, tones and cleanses the body of toxins and toxins, improves digestion, spleen function and improves vision.
We improve life! Three Reasons Why You Should Drink a Cup of Liu An Gua Pian Green Tea!
Tasting a cup of spring green lightly fermented tea, you enjoy a refined bitterness that turns into sweetness. You can close your eyes for a while and let your imagination take you far, far away, to intoxicating meadows from the daily vanity of vanities.
A cup of elite tea perfectly refreshes, relieves fatigue, increases energy value, which means it gives strength to help you take more active actions and achieve your goals.
Drinking a cup of Liu An Gua Pian green tea - you are drinking not just tea - you are drinking a high quality organic product grown without the use of pesticides, GMOs and other chemicals.
Reviews about product Green tea Liu An Gua Pian (Pumpkin seeds)
Leave a review
Comment
Достаточно мягкий вкус. Чайный лист свернут нехарактерным для "Тыквенных семечек" образом, но вкус и аромат в целом напоминают. Хранится чай правильно, т.к. нет кислоты в послевкусии (если в зеленом чае ярковыраженная кислота во вкусе, а не должна - обычно это проблемы хранения, а конкретно - влажность помещения). Достаточно приятный чай с мягкой сладостью. Советую попробовать, если хотите узнать больше о китайских чаях:)
Comment
В отличии от более дешевых сортов чая, где ошибка при заваривании прощается и не всегда критично сказывается на вкусовых качества напитка, более дорогие сорта требуют более тщательный подход к завариванию.
Это я уже успел убедиться на своем опыте cегодня с чаем Лю Ань Гуа Пянь.
Вначале заварил в точности по инструкции. Нет, не ожидайте, прочевши о его вкусовых качества, что в качестве напитка вы получите нектар. Конечно, нет. Это чай, не мохито )) Но сделав все, как нужно (внимание: не забывайте о чистой и, главное, мягкой воде) сделайте глоток и не спешите его глотать. А потом обратите внимание на послевкусие.
Да, этот чай можно назвать сладким. И, если так можно сравнить, сладость напоминает, как если в обычный чай добавить подсластитель в таблетках. Т.е., сладость ненавязчивая, ощущается хоть и слабо, но приятно (не забываем, это чай) и где-то "там, сзади".
И пахнет он как зеленый чай (специфический запах), но не резко, а мягко. Мне почему-то пришла в голову ассоциация с запахом фруктового мороженного (я имею ввиду не силу запаха, а "вкус" запаха).
Следующий пролив я сделал абы-как и получил абы-что.
Так что придерживайтесь инструкции и приятного чаепития.
How to buy?
To purchase a product in our online store, select the product you like and add it to the basket. Next, go to the basket and click on «Checkout» or «Quick order».
When you place a quick order, write your name, phone and e-mail. The manager will call you back and clarify the terms of the order. Based on the results of the conversation, you will receive confirmation of the registration of the goods by e-mail and via SMS. Now it remains only to wait for delivery and enjoy a new purchase.
Checkout in standard mode is as follows. Fill out the form completely in successive stages: address, delivery method, payment, information about yourself. We recommend that you write information in the comment to the order to help the courier find you. Press button «Checkout».
Delivery methods
Payment methods
Our warranties
We only want to delight you with fresh Chinese tea, beautiful dishes. Therefore, we always meet. If for some reason the goods upset expectations, you can return or exchange it within 14 days.
Returns or exchanges of teas, tea utensils, desserts, gift sets in the store Miy Chay are possible provided that:
item not used;
full set of goods (utensils) preserved;
branded packaging safe and sound: there are labels, tags, stickers, sealed factory film, warranty;
there is a sales receipt of the store Miy Chay.
NOTE
The return shipping or exchange of goods is paid by the client..
How is the refund?
If you paid for the order by credit card, we will credit the money by bank transfer to the same details within 3 calendar days from the date we receive the return.