Matcha milk tea - good or bad?
Currently, matcha green tea is gaining more and more popularity, but since it is a special drink, it is not entirely familiar and it has differences in preparation from ordinary tea drinks. It is believed that he came to us from Japan, and indeed, this tea plays a huge role in Japanese culture.
But the homeland of this bright green drink is China, according to historical information, ancient monks drank it even before our era. Later, one of the Japanese monks brought home, and over time, matcha tea became a traditional Japanese drink.
How to make matcha tea properly
Outwardly, matcha tea does not look like traditional tea, and it is sold in the form of a powder, not leaves. And when brewed, its color turns out to be a very bright, green hue, and it is not poured with steep boiling water, since this property of tea loses its usefulness.
Matcha tea is poured from the teapot after the boiling water has cooled down a little after 3-4 minutes, if you leave the lid open, the temperature will be about 70-80 degrees. You need to pour a little water, and constantly stir with a whisk. Matcha is usually sold with a whisk and bamboo spoon.
The most popular matcha tea is made with coconut milk and is referred to as morning tea. But there are different ways of eating and brewing in traditional Japanese culture, milk-free, strong and weak, for specific occasions.
You can make matcha tea with milk at home using the following proportions:
One bamboo spoon of powder, 2-3 grams, if there is no special spoon, you can use the usual one without the top;
150-200 ml of milk;
70-80 ml of water.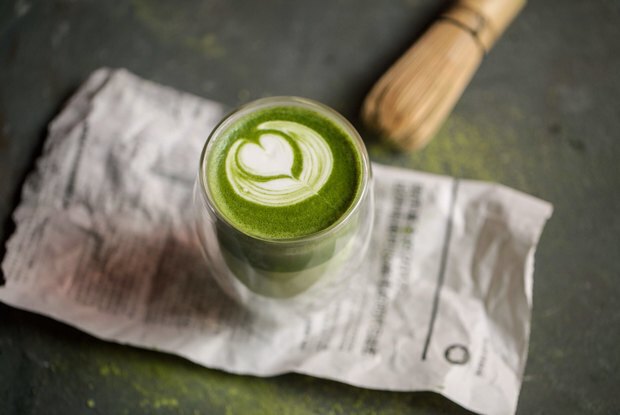 To get a delicious drink, matcha tea with milk, you must follow a certain order, which the Japanese have worked out to the smallest detail. In addition to the whisk, the matcha tea set includes a bamboo cup, in which this drink is traditionally prepared.
A detailed recipe for matcha tea with milk and step by step technology on how to make a popular Japanese drink on your own:
Tea preparation begins with soaking the whisk, if in cold water, then at least half an hour. You can speed up the process if you leave the whisk in hot water for five minutes;
Then you should warm up the cup with hot water, only after that pour the powder into it, if it is not homogeneous, then sift the match;
Slowly pour cooled boiling water into the powder, whisking constantly with a whisk, until completely dissolved;
Milk should also be heated to 80 degrees and also slowly pour in, constantly whisking the mixture.
Matcha is especially useful with plant-based milk; in addition to coconut, you can use soy and nut milk. This is determined by the properties of tea, which contains a large percentage of the antioxidant «epigallocatechin galate» and which has the ability to bind casein
You can add honey or sugar to matcha, although according to Japanese traditions, they prepare tea without adding sweet ingredients. Like all tea drinks, freshly brewed matcha tea is useful, as it retains all the amino acids and nutrients.