Tea with rice – a tradition of Japanese cuisine
Content
What are the ingredients in Genmaicha Japanese Fried Rice Tea?
Fried Rice Tea: Taste and Features
Simple and unique Japanese green tea with rice
Tea Brewing Process
Rice drink properties
Where can I buy green tea with rice?
Rice is the main dish of Eastern countries. It is even equated in importance to bread. But not everyone knows that in Asian countries this product is added to tea, and this is considered another wonder. But in these countries, such a drink is not surprising, but, on the contrary, is highly valued among the locals. And its name is "Genmaicha".
Of all the huge selection of drinks, the main place is occupied by the Japanese rice tea Genmaicha. This unique drink was created many centuries ago. It contains dried green tea leaves and fried brown rice. Through the roasting process, the rice gives the drink a delicate and light taste of popcorn.
Rice tea is prepared not only in Japan, but also in China. But there are some differences between them. The fact is that Chinese tea leaves are dried in braziers, while Japanese ones are steamed and air-dried.
What are the ingredients in Genmaicha Japanese Fried Rice Tea?
Japanese tea with fried rice appeared a long time ago thanks to the imagination of ordinary people in Asian countries. They saved on food and drinks, so they successfully mixed tea leaves and rice cereal in one dish. Such a fragrant and nutritious tea has many names, including «folk», «tea with popcorn», and «geisha breakfast».
The drink is based on two types of tea leaves:
Sencha. They are harvested in the spring and then steamed using special production techniques. This helps to keep all the beneficial substances in the leaves. Such green tea with rice gives a slight bitter aftertaste and astringency.
Bunch. They are distinguished by their large size and rigidity; they collect such leaves in the fall.
The bright original taste of Japanese tea with Genmaicho rice is obtained thanks to roasted grains. To prepare the drink, two varieties of such grains are used:
Urutigome - loose rice. It contains many useful ingredients that favorably affect all processes in the body. They also help keep the drink clear without changing its color.
Mochigome is glutinous rice. It contains many vitamins and minerals, gives rich color, sweet flavor to tea.
The amount of cereals and tea leaves should correspond, be in equal proportions. In this case, you need 200-300 ml of water, no less, it all depends on the amount of the mixture being brewed.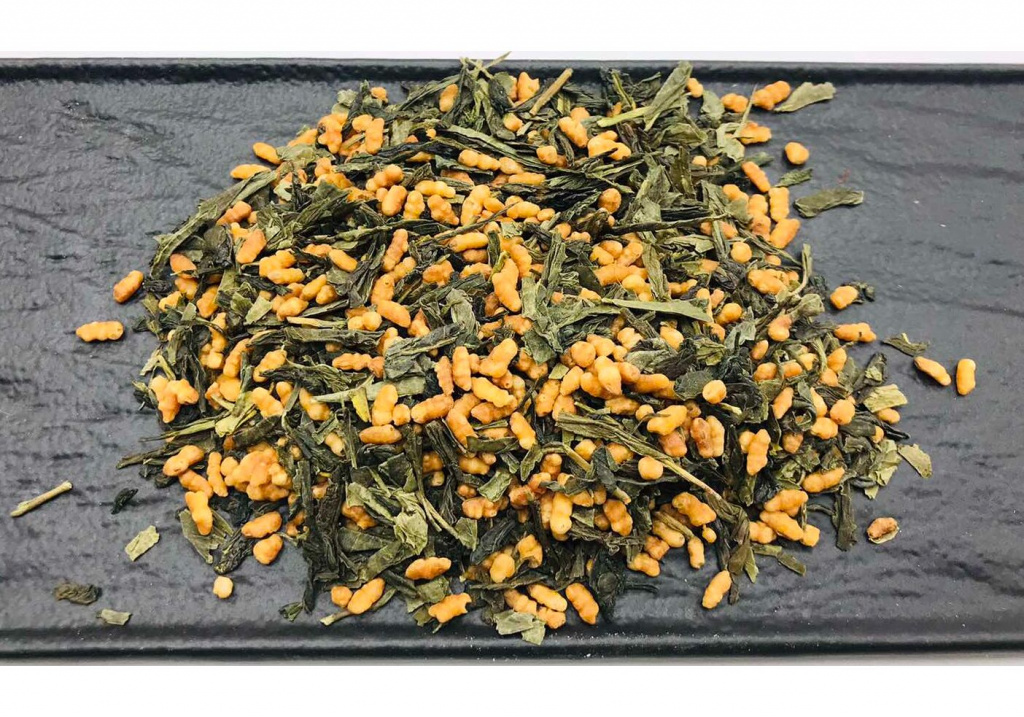 Fried Rice Tea: Taste and Features
Genmaicha is a drink infused with a blend of soft and delicate flavor with notes of fried rice grains. When fully cooked, it acquires a yellow-green and thick color if mochigome rice is included in the composition. This green rice tea is considered the most valuable. It can be used as a soup, which will have an unusual taste.
Simple and unique Japanese green tea with rice
Japanese peasants were the first people who decided to add rice cereal to tea. Thus, they created not only a drink, but also a snack at the same time. Today, such rice green tea is gaining more and more popularity and is winning the hearts of many people on the planet.
There are many ways to brew such a product, but it is better to do it in a teapot with a sieve that can filter out small tea leaves. But you can do this in a cup, the downside of this method will be the emergence of tea leaves to the surface. Genmaicha brews quickly, so control the steeping time and strength of the tea by the color of the brew and your preference.
Tea brewing process
If you decide to buy rice tea and do not know how to prepare it, use the following recommendations:
Send the mass to be brewed in a teapot or teapot.
Pour boiling water over the mixture.
Leave for 3-5 minutes and then you can use it on its own or with a garnish.
This tea is not just a thirst quencher, but also a healthy broth. It can be safely served for lunch or dinner.
This type of drink can be drunk only 3 times a day, no more. After all, it perfectly quenches thirst and hunger, and is also used for weight loss. Thanks to this drink, you can keep yourself in shape without starving yourself and dieting. Among the dishes and drinks of Japanese cuisine in green tea with fried rice became available to this world. Its peculiarity is tenderness in taste and sweet aftertaste, and you can infuse the drink more than once. It acquires a bright yellow color and an original rice flavor.
If you do not like strong tea, you should not insist it for a long time, but if you love to enjoy a strong drink, then the tea leaves can be left in the water for a long time.
Re-brewing is possible until the tea leaf cools down. Chilled tea leaves cannot be brewed, as there is no benefit and taste from such tea ...
Rice drink properties
The peculiarity of the product is that it is both a drink and food: thanks to rice grains, tea is energetically valuable. Such a product does not harm the figure at all, fills the body with energy and restores strength. If you are watching your figure, then this drink is just for you. It will serve as your main dish and perfectly quench your thirst. But if you have stomach diseases, hyperacidity, or you suffer from hypotension, it is better not to drink such tea or do it in small portions.
But among the main advantages of the product can be identified:
the ability to stimulate digestion;
cleansing the body of harmful substances;
adding vivacity and energy;
strengthening the body's defenses;
presence of vitamins and minerals in the composition.
Rice tea can be brewed 3-5 times, so it is considered a complete lunch or breakfast. One of the amazing properties of Genmaicha is the acquisition of unique taste qualities with repeated use. Therefore, we recommend buying green tea with fried rice and enjoy its delicate taste, as well as beneficial properties.
Where can I buy green tea with rice?
You can order Japanese rice tea online from us. Our online store offers only the best product at a great price. On the site you can read the comments of satisfied customers, as well as write what you think about our product. If you decide to buy Japanese green tea with fried rice from us, appreciate its delicate original taste and the benefits it brings to your body. Treat your family, friends, loved ones with a delicious high quality drink from the best online tea store.