Ginger tea: winter spice in your favorite drink
Contents
Secrets you didn't know about
Ginger tea: benefits
Recommendations for the use and selection of ginger
Tea for colds with ginger
Ginger tea for weight loss
How to make ginger tea for weight loss or for colds?
Ginger lemon tea for colds
Tea with ginger, lemon and honey
Sea buckthorn tea with ginger
How to save time on preparing a drink?
On a cold winter day or in a hot summer time, it is so nice to enjoy a delicate drink. Many people like to drink tea with different additives, some prefer coffee or cappuccino. But most people, nevertheless, choose an invigorating tea. It is no secret that the best and very healthy drink is ginger tea.
This plant has a unique taste and has a beneficial effect on the human body. It gives the liquid a special spice and tenderness at the same time, besides, it can be safely used not only in a drink, but also in various dishes. The peculiarity of ginger is the ability to warm in the cold season, protect against colds and invigorate the body.
Secrets you didn't know about
The plant has been known to man for a very long time, it can be safely called the same age as tea itself. For about 5000 years, it has been giving people cheerfulness, warmth and comfort. Ginger appeared in India, is famous for its unusual golden roots and grows in the highlands. Ginger tea itself came to us from China, as the inhabitants of this country know a lot about drinks of this kind. The Chinese called this drink the fire of life, as it helped to saturate the body with energy and strength, health and warmth.
Ginger tea: benefits
The drink is famous for its rich amount of ingredients: essential oils, B vitamins, minerals, ascorbic acid, and also gingerol, which gives the plant a burning taste. Ginger tea stimulates the brain, improves blood circulation throughout the body, improves memory, attention. For people who are engaged in creative activities, this is the perfect drink.
This drink is unique, as it suits everyone. You can use ginger tea during pregnancy, as well as for the purpose of losing weight, and especially during the cold season. Only with caution should it be taken by people suffering from stomach ulcers, poor blood clotting, allergies to spices and who have gallstones. The thing is that the characteristic burning taste can provoke discomfort in the intestines or an organ that suffers from the above disease. Pregnant women also need to reduce the dose of ginger in tea, although this plant has no contraindications.
The benefits of ginger tea are already observed after several applications, saturating the body with essential minerals and vitamins. And if you add lemon to the drink, then this vitamin cocktail will become doubly useful and nutritious, reliably protecting the body from even the most powerful viruses.
The main effect of ginger lemon tea:
Cleansing the body of toxins and harmful substances;
Help in weight loss and improve metabolism;
Saturation with useful trace elements;
Cheerfulness and warmth after taking a drink;
Reduced metabolism;
Pain relief and virus control;
Improve memory, concentration;
Salvation from nausea.
True, we should not forget that ginger has such an effect in combination not with tea from bags, but with more natural custard from whole leaves.
Recommendations for the use and selection of ginger
Among the main points of drinking ginger tea are the prevention of colds and weight loss. How to choose a plant and prepare a medicinal drink will be discussed further.
Tea for colds with ginger
At the first signs of the disease, it is recommended to drink tea with lemon and ginger. It warms, relieves nasal congestion and helps to cope with hoarseness. Properties of ginger tea - relieves inflammation and fights bacteria. It can be used for the purpose of prevention and strengthen the immune system. But it is not always possible to achieve the desired effect. In this case, we recommend that you follow our instructions, and then you can create a real shield for your body.
Use only the fresh root of the plant, as it will lose almost half of its medicinal properties when dry.
Do not increase the dose of root per cup of tea. Add no more than 1 tsp. before that, you should finely chop and grate the product.
The brewing temperature should not be lower or higher than 60-70 degrees.
It would be better to add lemon, star anise or cinnamon to the drink. Everything according to your desire.
Do not forget that the mixture must be allowed time to infuse. This will take no more than 10 minutes. If overdone, the drink will become very bitter.
Follow these simple rules and your ginger tea for colds will bring maximum benefits.
Ginger tea for weight loss
It's no secret that ginger is a favorite ingredient on nutritionists' list of healthy spices. Contributes to the normalization of cholesterol levels in the blood, has a positive effect on the functioning of the gastrointestinal tract, and speeds up metabolism.
An interesting fact: in California, studies were conducted with the participation of 300 people. They were divided into 2 groups: people who consumed a ginger drink for weight loss during the day felt less hungry. Therefore, as you see, the benefits of ginger in tea and various dishes have already been proven, which will also have an equally beneficial effect on your overall health.
How to make ginger tea for weight loss or for colds?
This unique plant retains its beneficial properties even after freezing or strong heating, but when dry, it loses half of its abilities. Therefore, to prepare ginger tea for colds or for weight loss, choose a fresh product.
Follow the tips above to get it right. But if you want to create a unique drink with additives, it is recommended that you first consider which additive to use. You can take a lemon, it will give the drink a slight sourness and freshness, honey will give a natural sweetness unlike sugar, star anise will give an even greater spicy taste that not everyone will like, and sea buckthorn will fill your tea with an incredible smell.
Ginger lemon tea for colds
Such a vitamin cocktail can be prepared not only for yourself, but also for your family, and even small children. They will like the delicate sour taste mixed with a slight bitterness. Creating such a drink is very simple, for this it is enough to do the following manipulations: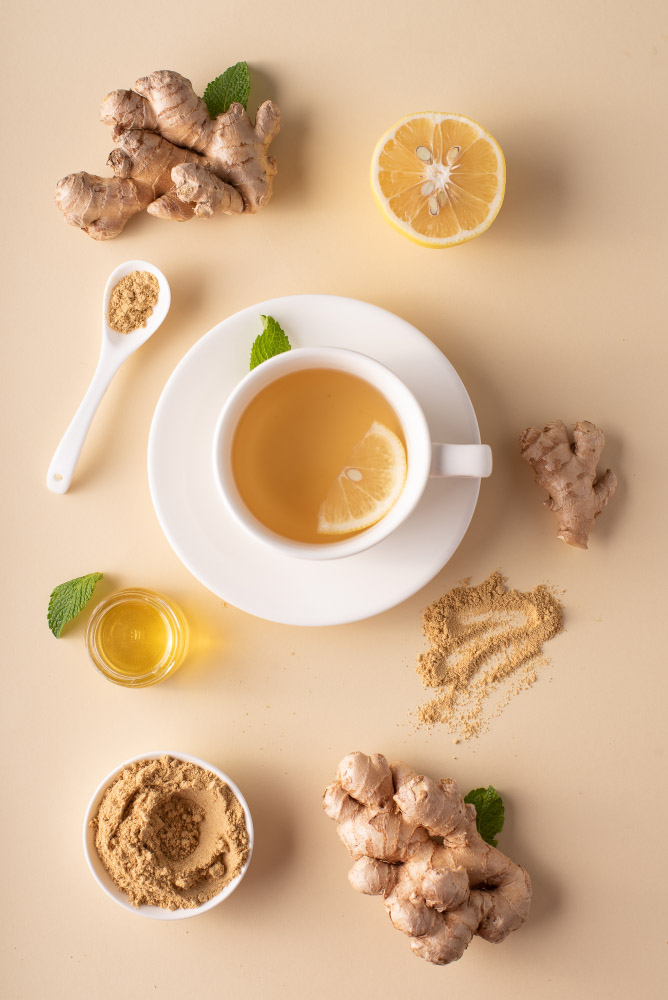 Peel and finely chop the ginger
Prepare 2-3 lemon wedges.
Prepare a kettle of boiling water.
Add ginger, lemon and tea leaves to the water. Just do not forget about the proportions: add 1-2 tsp to 200 ml of water. spices, and no more.
The mixture must be allowed to stand for a few minutes.
Delicious tea with ginger and lemon, the benefits of which will be noticeable from the first use, is ready. Enjoy this gentle drink and forget about diseases. But if you do not want to spend your time brewing a drink and choosing ingredients, you can visit our online tea store and choose the right option for yourself.
Tea with ginger, lemon and honey
This drink is prepared in the same way as the previous version, but the main difference is the addition of honey to the cup with the mixture already prepared. Just remember that this should be done after the drink has cooled down, since honey will lose its beneficial qualities at high temperatures.
Do all the manipulations correctly and efficiently, and the drink will benefit you. In addition, do not forget that you can use and prepare both black and green tea with ginger. This will not spoil the rich taste of the drink at all.
Sea buckthorn tea with ginger
To create such a product, it is recommended that you first finely chop the sea buckthorn and ginger, putting them in a glass. Then add boiling water and other additives in the form of cloves, mint, sugar. The mixture should also be infused and its mono boldly consumed with pleasure.
No matter how you prepare ginger tea, its benefits will be noticeable from the first use.
How to save time on preparing a drink?
If you do not want to spend time brewing a drink, you can buy ginger tea in an online store. So you can save not only time, but also money, and also get a very profitable high-quality product from natural ingredients. Choose the right product in our catalog and place an order, and our manager will quickly send delicious and natural ginger tea for colds, weight loss or just enjoying a unique drink. Contact us!