Drink for health: how long can you keep brewed tea
Content
Drink from time immemorial: a journey into history
Geography of growth of the main exported masses
Main types of tea
How long can you drink brewed tea?
Black brewed tea and expiration date
How long does brewed green tea keep?
Can I store brewed tea in the refrigerator
Tea brewed in milk: drinking tips
How and where is the best place to buy tea?
Who does not know that tea has long been considered the most popular drink after water? It is used exclusively in all countries. In every house there is at least one package of tea, or even more. Only wine can compare with its age, and many of us believe that we know almost everything about tea. But, we assure you that today we will be able to reveal to you some important secrets regarding the favorite drink of sages and aristocrats - tea.
Drink from time immemorial: a journey into history
In Eastern countries, tea is considered the main remedy to help overcome any disease. And not in vain. Asian sages have long noticed that the leaves of this plant contain a high amount of trace elements, antioxidants and vitamins that are necessary for the human body.
However, in order to profitably extract all the available components from tea, it must be properly prepared and stored properly. Otherwise, tea can turn into a destructive force for our body, which does not help, but rather harms.
Not many people know that all teas growing on the planet are varieties of one of the oldest plants - Camellia sinensis. According to myths, the first tea was grown and consumed 2100 years ago during the reign of the Chinese Western Han Dynasty.
Today there are several dozens of teas in the world. All of them can be divided according to several principles:
Country of origin
Plant type
Release Form
Coolness
In addition, these categories have their own varieties, and in turn divide teas into various subtypes, subgroups and subspecies.
Geography of growth of the main exported masses
Probably, few of us think about how diverse and capacious the world of tea is. Looking at tea packages on the shelves of supermarkets or specialized stores, few of us delve into the production process of this product, or mentally transfer to distant tea plantations. Let's delve a little into the geography of tea growth. Today, the leading positions in the world in the cultivation of tea are occupied by the following countries:
Indonesia
Other countries whose economy includes tea production include: Argentina, Japan, Iraq, Taiwan, Nepal and Azerbaijan. The volume of production of these countries, taken together, produces no more than 10% of tea on the world market.
Main types of tea
In nature, you can find only six types of tea, which are made from real tea leaves. These include:
True connoisseurs say that only a drink brewed on the basis of a real tea leaf can be called real tea. However, in the world it is customary to call tea and other drinks made on the basis of leaves, stems, petals or even roots of other plants. These teas include:
In the world of alternative medicine, teas based on herbs are known: chamomile, calendula, thyme, coltsfoot, oregano, Ivan tea and linden flowers.
How long can you drink brewed tea?
In Japan, there is a saying that literally translates as: "Tea left on the second day will be worse than vinegar." And, as always, the Japanese are right. The tea leaf is truly a mysterious element. The useful substances contained in it can be stored for years if the leaf is dry, however, it is worth brewing it with boiling water, and after two hours they break down and begin to turn into toxins. So is it possible to drink yesterday's brewed tea?
Observations of scientists prove that brewed tea, which has stood for half an hour, loses its healing qualities, and becomes soil favorable for the reproduction of fungi and other small microorganisms. If you leave strongly brewed tea for a day or more, you will soon find that the surface of the drink is covered with thick mold. This is a colony of fungi. Such slurry for a person is a real poison. If you involuntarily have such a situation, then get rid of the missing tea leaves as quickly as possible, and wash the dishes thoroughly, sterilize with boiling water and dry.
The shelf life of brewed tea is 10-15 minutes after you have poured boiling water over dry leaves. Of course, after 5-6 hours it will still be a drink that you can drink, but it no longer has the proper taste and aroma, and the beneficial substances have disappeared without a trace, turning into small harmful trace elements that strive to harm your body.
Black brewed tea and expiration date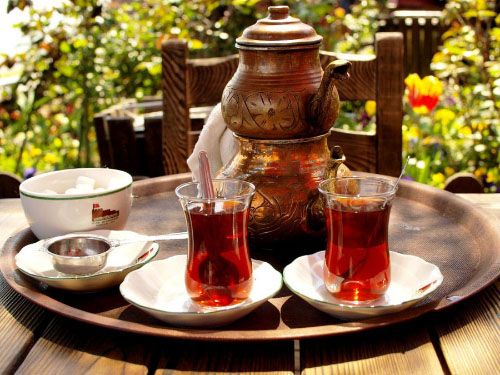 The shelf life of brewed tea depends on the degree of its fermentation. For black tea and pu-erh tea, the shelf life when brewed is no more than 30 minutes. After black tea has cooled to a temperature of less than 30 degrees, it has completely lost all its useful and pleasant qualities. The most reasonable in such a situation would be to pour out this drink and brew a new one.
How long does brewed green tea keep?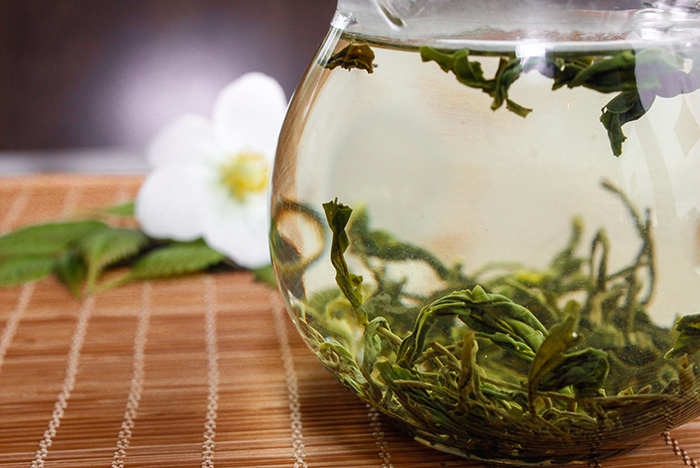 Since green tea is a less fermented tea, its shelf life when brewed will be slightly longer than black tea, but not by much, only five to ten minutes. In just 20-25 minutes after brewing with boiling water, you can truly enjoy the true taste of green tea, and fill the body with useful substances contained in it. Within half an hour after brewing, this effect will not be available to you. Having drunk a drink that has stood for a long time, you will feel only bitterness and an unpleasant tart aftertaste. All experts unanimously advise you to pour out such tea and prepare another one.
Is it possible to store brewed tea in the refrigerator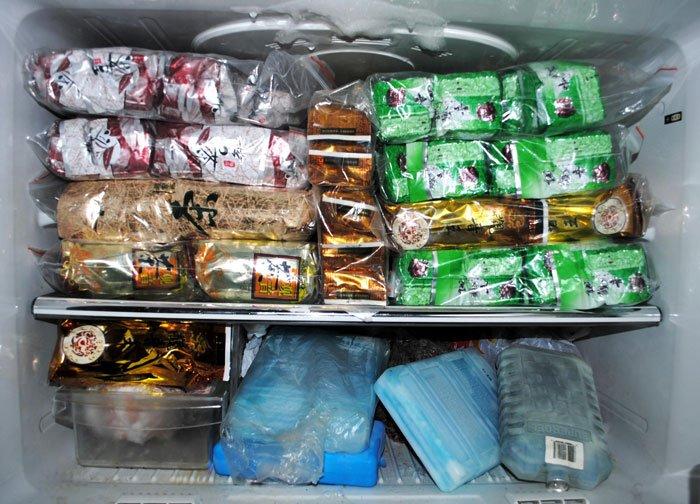 Is it possible to drink yesterday's brewed tea? This question worries many sensible and economical housewives who know how to plan and maintain a family budget. "Not desirable," those who have tea on "you" and know all its secrets will answer you. However, if it so happened that you brewed tea and did not calculate the amount of tea leaves, you can put it in the refrigerator until morning. Cold will not preserve useful qualities and aroma, but it can protect brewed tea from the formation of harmful substances in it.
It is quite possible to extend the shelf life of brewed tea by placing it in the freezer. At a temperature of -17 ° C in ice briquettes, you can preserve the beneficial substances of green tea. But, this is only possible if you send the tea leaves to the freezer within 20 minutes after brewing.
Tea brewed in milk: tips for drinking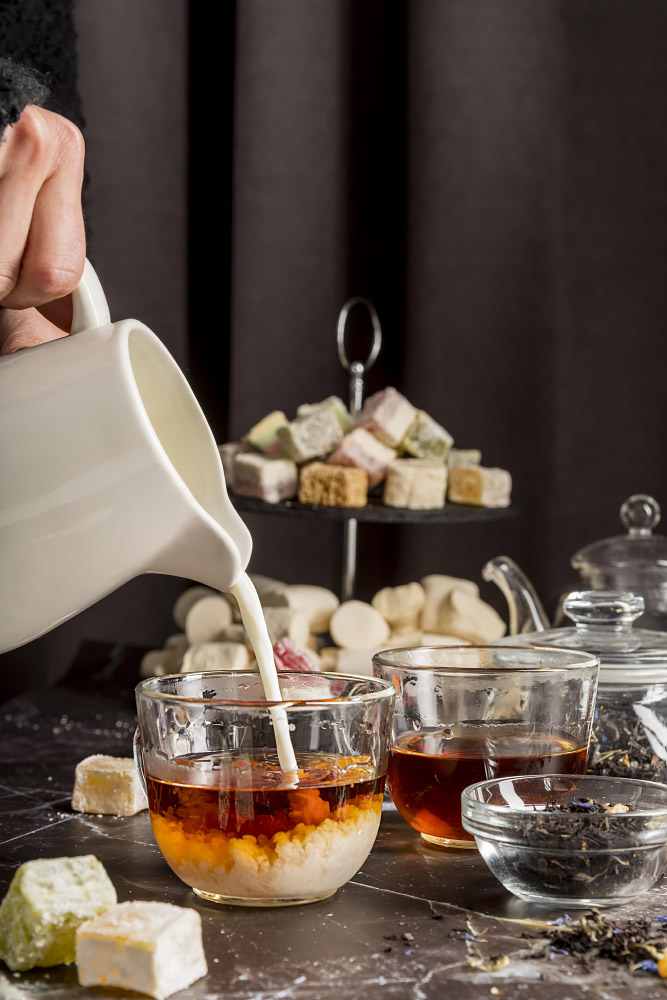 Singing all the beneficial properties and breathtaking aromas of tea, we often forget that it also has a "second side of the coin." And that's caffeine. Whatever one may say, but this substance is harmful to the human body. And if you drink tea without restrictions, then it is fraught with diseases of the cardiovascular, liver and kidneys.
In order to slightly neutralize the effect of caffeine on the human body, nutritionists say to brew tea by adding milk. This method is approved by users. They claim that tea brewed with milk is not only healthy, but also tasty.
The recipe for making this tea is simple:
5-10 grams of expensive, good tea, preferably pu-erh, pour over with boiling water
Put the leaves in a teapot or other metal container
Add half a liter of fresh milk to the leaves
Bring the milk to a boil on low heat
Put some butter
After two or three minutes, the container must be removed from the heat, add your favorite ingredients to it and let the drink brew for 5-10 minutes. You can also make green tea brewed in milk.
How and where is it better to buy tea?
Probably, you have repeatedly noticed that it is almost impossible to choose good tea on the shelves of supermarkets. Among the offered goods, there is always the same standard set of the most popular and not expensive teas.
With specialized tea shops, the story is a little different, but also not very happy. Typically, branded tea shops sell products of one or two brands, where the supplier is either one country or one network operating under several brands. When buying tea in such outlets, you unwittingly become a hostage of the situation and choose from what is available.
That is why you should pay attention to the possibility of buying tea online. How does an online tea shop work? In this case, the My Chai? On our website, almost all types of tea available on the market are collected for sale. Since the buyers who come to our pages have a wide variety of preferences and tastes, we try to be able to satisfy them all. To do this, the collections in the warehouses of the store are constantly replenished, the most popular products are moved to the popular section, and we often arrange promotions for new items and are ready to present you any of the teas, telling you everything about it, from the history of the country where the first petal of this type of tea grew to the recipe for it. cooking.
Our tea prices are quite reasonable and accessible to almost everyone.