Yellow Egyptian tea: how to brew
Content
The story of the divine drink
The Official History of Tea
Beverage storage and preparation
Indisputable benefits
Contraindications for taking tea
Rules and culture of drinking tea
Fenugreek Nuances
An interesting piece of history
Egyptian yellow tea is a matter of special pride for the people of Egypt, who honor their history, care about their health and are ready to share their discoveries with the whole world.
The story of the divine drink
Egyptian yellow Helba tea is a unique phenomenon among analogues, since it is made not from tea leaves, but from the seeds of an annual fenugreek plant. After aging under the scorching sun, they acquire a yellow color and a delicate aroma that persists after pouring boiling water over the dried beans.
Fenugreek is widely known and used in Egypt since the time of the ancient pharaohs, as evidenced by the presence of dried seeds in their tombs during excavations. In ancient times, they were used mostly for animal feed, until someone thought of pouring hot water on them as an experiment.
The plant itself is unpretentious, but difficult to cultivate under the scorching Egyptian sun, so it is mostly grown in India for further export. The Egyptians use this valuable product not only as tea leaves, but also add it to the manufacture of cosmetics, considering it one of the most unique storehouses of nutrients and vitamins that exist in the world.
The Official History of Tea
The first mention of Egyptian yellow tea ingestion dates back to 1500 BC. and were found in ancient papyri. The seeds of the annual plant were used to heal wounds, relieve pain during childbirth, and added to embalming products.
The ancient Greeks believed so strongly in the possibilities of fenugreek that they always gave them to gladiators before the start of a battle or to warriors going to battle in order to increase strength and increase concentration.
Arab researchers added parts of fenugreek to medicinal potions, sincerely believing in enhancing their medicinal purposes and capabilities. Only in the 11th century AD did the popularity of the magical plant go beyond the countries of the East.
In Europe, Egyptian yellow tea appeared relatively recently, and therefore became the subject of special interest and curiosity of the inhabitants. The ancestors had to work hard to find and buy fenugreek seeds, since its cultivation required effort and certain climatic norms. As plantations spread and increased, this problem was solved, which led to a decrease in the cost of seeds, making them more accessible to the layman.
Storing and preparing the drink
Once harvested, fenugreek seeds have a distinct flavor and aroma that can be transferred to foods in close proximity to them. Ideally, it should be stored in an airtight container with a tight lid, while both whole and crushed seeds are ideal for brewing.
The preparation of the drink does not require special efforts and efforts, implying several stages:
Seeds washed under cold water at the rate of a couple of teaspoons per cup are poured with boiling water.
The mixture is put on a slow fire to boil for several minutes. After the drink has acquired a pronounced color and aroma, it must be filtered and can be drunk in its pure form or with the addition of honey or lemon.
The classic version of tea brewing in the form of a banal pouring of hot water is less laborious, but reduces the taste and beneficial properties of the drink, which in its essence is not only tasty, but also a useful tool that helps to solve numerous health problems without the use of medications.< /li>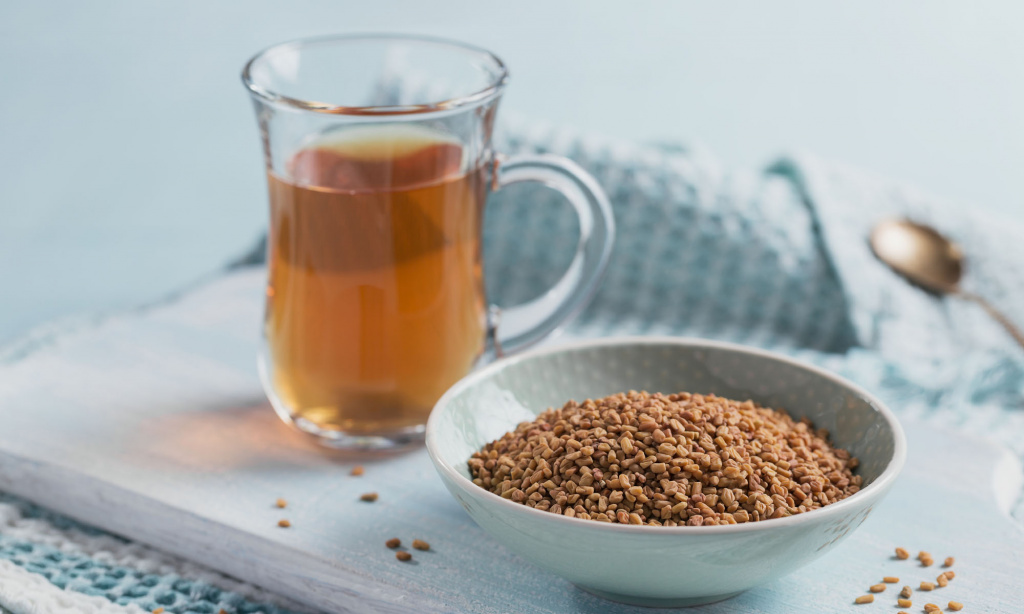 Indisputable benefits
Tea yellow Egyptian Helba tea is considered a storehouse of vitamins and useful trace elements, as ancient scientists spoke about many centuries ago. Over the entire period of use, he only secured the title of a magical elixir that can work wonders and give vigor, subject to reasonable use, which does not imply fanaticism and the complete shifting of responsibility for one's well-being and health to tea.
The most pronounced properties and abilities of the Egyptian yellow tea drink:
reducing blood pressure and relieving feelings of fatigue (in the presence of severe forms of hypertension, it is worth consulting with your doctor before taking tea in order to avoid negative consequences);
control and normalization of blood glucose levels, which is especially valuable and important for people with diabetes;
cleansing the body of toxins, which contributes to the full functioning of all organs; beneficial effect on the hormonal background of men and women (some researchers call yellow Egyptian tea a natural aphrodisiac for both sexes);
removing the feeling of fatigue and bringing all vital functions into tone; improvement in colds, as the drink helps to cleanse the bronchi and helps to lower the temperature, reducing the intensity and duration of the disease;
cleansing the skin and maintaining it in a healthy state for a long period, even after the end of the drink;
Reduce sweating and eliminate body odour.
To reach the level of maximum benefit, Egyptian yellow tea should be drunk slightly chilled in the case of normal use, for medicinal purposes there are other recommendations. Its seeds are also suitable for consumption, with a mild and pleasant taste, while maintaining the maximum amount of benefits. After drinking the drink, they can be mixed with a spoonful of honey and eaten, which will have a beneficial effect on the condition and functioning of the intestines.
Contraindications for taking tea
With undeniable benefits and pleasant taste qualities, yellow Egyptian tea has a number of contraindications, therefore, it is necessary to take it carefully for a long period of time for people who have:
low blood pressure problems;
frequent allergic reactions;
pregnant and lactating women;
Children under the age of three.
All other categories of lovers of a fragrant potion - Helba yellow Egyptian tea can enjoy it for both aesthetic and medicinal purposes. At the same time, you should not make excessive demands and count on solving existing problems after the first cup, since fenugreek, in principle, is not a panacea for all ailments and acts on the body gradually.
Rules and culture of drinking tea
Helba Egyptian tea is equally tasty and healthy, both hot and cold. Freshly brewed tea should be taken in the presence of colds, as an additional remedy in the fight against sore throats or flu. It has a warming effect and helps the bronchi to be cleansed of the effects of negative microbes. A chilled drink tones, refreshes and gives a boost of energy, so it is especially good during a period of sweltering heat.
Yellow Egyptian slimming tea is taken for a long period of time three times a day. To ensure a positive effect, crushed seeds are poured with hot water, after which the drink must be infused until a rich color, taste and aroma are achieved. Do not do one tea leaves for several days, which will reduce its effectiveness. It is better to prepare a new serving before each dose, drinking at least two liters of the drink throughout the day.
Yellow Egyptian tea, the benefits of which are undeniable, should be drunk in small sips, enjoying the spicy taste and passing positive energy through you. It is not customary to drink it in one gulp or drink hearty food, which will negate all the declared properties and features of tea.
Gourmets can brew it with milk instead of water, which will make the drink spicy, giving it a special bitterness. It is not customary to add sugar to Helba, if you want to sweeten the drink, you should give preference to a small amount of honey.
Fenugreek Nuances
In the homeland of tea, you can find it in any specialized shop. The Egyptians are proud of it as a real attraction and willingly treat their guests. You can buy Helba yellow tea anywhere in the world, relying on the help of such an assistant as an online tea store on the My Tea website.
After purchase, the seeds can be stored for 3-5 years with the preservation of all useful and gustatory qualities, provided that they are stored properly. Fenugreek easily absorbs third-party odors, so it is worth deciding on a commodity neighborhood, excluding its constant presence next to spices or products that have a specific fragrance.
You can order Egyptian yellow tea online at the My Chai store with a wide selection of quality products that guarantee timely ordering, transparent pricing, constant contact with the client and a convenient payment format.
A curious excursion into history
Not only contemporaries prefer a healing drink, but many historical figures were looking for a solution in salvation numerous problems when taking yellow tea.
King of the Franks, Charles considered fenugreek to be a unique treatment for baldness, so he constantly forced his courtiers to ensure its availability and accessibility.
Representatives of the ancient Benedictine religious order used the seeds of a unique plant in spiritual practices, considering it to be gifts of higher powers.
In Saudi Arabia, it is still customary to add fenugreek to festive dishes prepared during Ramadan.
In America, it is customary to add the plant's seeds to sauces, ketchups, and fast food. And the citizens of Ethiopia consider the use of plant parts in baking bread to be the highest chic.
Buying Egyptian yellow tea will be the right and considered decision for all people who have a delicate taste, monitor their physical and psychological state, and aim to replenish their vitality with the help of an ancient elixir with guaranteed positive characteristics.