Clay teapot: why is Yixing clay expensive?
Tea gourmets know the true value of clay teapots, but newcomers who are only part of the company" elite tea lovers" when choosing dishes may doubt which teapot to buy. This really needs to be understood, since elite varieties from China require special attention and knowledge in the field of brewing. Don't think it's complicated. Everything is simple and clear! The main thing is to decide on the material, its features (including care) and design. So, clay teapots! What are they good for and why are they so popular not only in China, but all over the world?
You went to this page and see the offered range. One of the important primary questions that may arise when evaluating clay teapots-the price, and quite a lot, while different. After studying the advantages of Yixing clay, You will understand why it is in this segment. And, the first thing I want to say: the clay teapot is deservedly not cheap!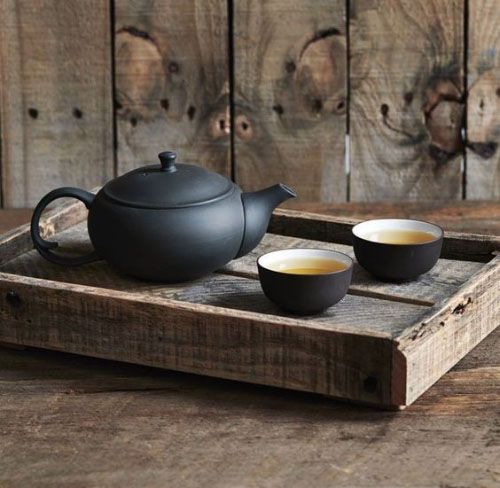 If You want not just to drink tea, but to bring Eastern traditions to the tea party-a clay teapot will play the best role! As You have already made sure: you can buy a clay teapot in Kiev in "Miy Chay". Making an order takes a few minutes, but that's not the point. Before you make a choice, get acquainted with the information and ask yourself the question: is it suitable for me?
Yixing clay… An unusual material that is extracted only in one place on Earth-China, Yixing County. It's not easy to get it. The layer used for making clay teapots is located far in the depths. Only it has a unique property-it makes it possible to "breathe" tea leaves. This is due to the content of kaolin, iron, silicon, and small silicate particles. This combination allows you to burn products at a very high temperature, and the porosity of the material present has the feature of passing oxygen inside the kettle, under the influence of which the tea leaf opens perfectly, completely "breathes". And another important "plus": the loose elastic clay surface absorbs all the flavors of tea, accumulates them with each subsequent brewing and gives them an exclusive fragrance that brings pleasure even to the most discerning gourmets.
In General, time is an important aspect for Yixing clay. The more You use your cookware, the easier it becomes, louder. This is a good indicator of quality!
Yixing clay is not soft and moist by its natural structure. This is why it is used on a Potter's wheel. Its structure is a rocky solid rock that can be subjected to manual and semi-manual production after various manipulations, which includes the casting process. As a result, the surface of clay teapots looks smooth or grainy: sometimes there are interesting imitations – the appearance becomes citrus peel, expressive pits, bumps… Everything depends on the imagination of the master and his desire to demonstrate his skill and skill.
You look at clay teapots and think: how fragile are they? Wrong! Visual fragility is deceptive. Each product has increased strength.
Yixing clay heats up quickly and keeps the heat for a long time, positively affecting the taste and aroma properties of the drink. Each infusion gives essential oils to the teapot, which, in turn, absorbs them into its walls. At the next brewing, it adds "its own" taste to the new raw material, making the nectar unique and individual. Submit: You use dishes more than 200-300 times… Each tea party demonstrates a new taste and aroma… The brew is the same, and the drink becomes more original, brighter… Subsequently, it becomes even interesting: what will elite tea demonstrate today? Many people probably already have a desire to buy a clay teapot… Take your time, You don't know everything yet!
Natural material is deservedly expensive: the Chinese clay teapot destroys lead and other dangerous compounds every time it is brewed, thereby enhancing the usefulness of the medicinal drink.
You may have noticed that the clay teapots in our catalog differ in color. The rich color scheme is a gift of nature, which makes natural material more interesting for the design of dishes. In addition, each color is a sign of certain quality characteristics that affect the price category. For example, purple Yixing clay has the most extensive deposits and its processing technology is one of the simplest. Therefore, it is relatively cheap and available to everyone.
Along with it is the most expensive-white. Its deposits are far from other species. It's hard to find. Plus, it is capricious in firing. In the tea industry, white Chinese clay teapots are called works of art.
You can buy a clay teapot in "Miy Chay" in any color. It all depends on your taste and financial capabilities. Pay attention to the fact: all dishes are decoratively simple. It does not show rich decoration and brightness. The maximum that Chinese masters allow themselves is delicate paintings that laconically embellish the traditional dishes of the middle Kingdom, which have come to the modern world since ancient times, when China was famous for the Imperial monarchs and their achievements.
You can buy clay teapots at different prices. A lot of it depends on who made it. China has its own master's qualification, which takes into account various merits, including work experience. Every master must necessarily study, study and study again, while passing exams, participate in various exhibitions, publish articles on their own production, do independent research, use their own design (in no case be seen as plagiarism), etc. Depending on the skill of the Creator of clay dishes, the price of their products is set. In our catalog You can see quite loyal prices. In reality, a teapot can cost a lot of money and serve as a collector's item. In certain circles, owning such a subject is not only pleasant, but also a status. But, you do not think: if you buy a clay kettle for 740 hryvnia – it is not profitable, you are mistaken! Just super-expensive and cheaper items are completely different things designed for different uses.
It is almost impossible to buy a fully hand-made Chinese clay teapot. This is a huge rarity, occurring exclusively among named samples. More budget units, brought to the end by hand, perfectly cope with the main task – to perfectly brew tea and fill it with taste and aroma refinement. And it can be either a" masterpiece " of a beginner or a more professional author. An adequate price is not a reason to doubt the quality of the product being sold.
Now you know that the clay teapot is deservedly in demand due to its exceptional natural and decorative value. If you decide to buy a clay teapot, we recommend that you listen to some more tips in order to be completely sure of a profitable purchase.
Every housewife is interested in the question: is it easy to clean porous, rough surfaces? The answer is easy! Naturally, if you do not wash dishes for a long time, it just can not help but appear specific odors. In this case, they are eliminated without problems: 3 times the kettle is bathed in boiling water and rinsed with cool water. Only running water! Without detergents! They absolutely cannot be used! Otherwise, you will lose the peculiarity of the tea taste and aroma.
About heating: let's say You have just filled the vessel with boiling water. You will be surprised, but the handle of a clay teapot does not heat up. Feel free to take a strong "ear" and pour the precious drink into cups (bowls)! You won't burn your fingers!
Another advantage: the clay teapot is not afraid of high temperatures. It can be put on an open fire, in a microwave oven.
Some aesthetes call the clay teapot for brewing tea "magic". This is due to simple experiments that have led to unique results. It turns out that the dishes of the middle Kingdom can change their color depending on the tone of the tea leaves. Only your practice will help you make sure of this!
Initially, some are repelled by the matte dullness of dishes made of Yixing clay. Believe me: with constant use, this amazing material gets a gloss and an oily gloss.
We answered the question: why ISIN clay tea ware is recognized as one of the best in the world. But what defines its "soul"? The technique of overglaze painting. It is carried out after fixing the natural color. After its application, firing is performed again. The style of painting conquers with its originality and mystery. Its presence is a certain sign that forms the understanding that in Your hands is a true Chinese tableware, striking imagination and sophistication of the work performed. But, there is one common privilege: all the masters, without exception, for more than one century, demonstrate a love of simplicity and minimalism in design. In other words: the appearance is remembered for its laconic refinement and sustained style, which ensures reliability, practicality, and ease of use.
Let's say you are ready to buy a clay teapot. We hope that you will do this in our specialized online store "Miy Chay"! But if you decide to do it elsewhere, it's okay, we respect any choice, and we strongly ask you to limit yourself from fakes.
Simple advice: Yixing natural clay always has a monotonous, soft color. Brightness is a "beauty for the ignorant", indicating the presence of oxidized metals that are harmful to health.
Do you observe an absolutely smooth surface? This is a fake.
Each clay teapot has a decent weight. It looks airy and light. And if you take it in your hand, you should feel the weight.
but the main thing is the master's seal! It should be either under the lid of the kettle, or on the bottom. The seal is not just a brand. This is a sign that you can use to identify the master manufacturer. To do this, just use the Internet and an Internet translator and "go" to the state website of China, where all information about the masters of the middle Kingdom is stored.
You can buy a clay teapot in Ukraine in specialized tea shops and through numerous Internet resources. The main thing is not to make a mistake with the quality. Selling dishes made of Yixing clay is not an innovation today, but real Chinese craftsmanship does not always correspond to reality. Here's another tip: no matter how much you like the kettle, you should not buy it without the main criterion. The spout, lid and handle should "lie" on the same line! This is a mandatory advantage of Chinese clay teapots. In this case, the cover should not be subjected to dangling movements.
Now you know where to buy clay teapots and how to use them. Personally, we want to add: the Chinese do not brew white or yellow teas in this dish. They believe that it is created for Puer, dark Oolong, green varieties. But it's up to You to decide what kind of tea to brew. We can say with confidence: using this product, you will 100% discover the wonderful world of elite tea flavors and aromas, full of refined notes and shades that have absorbed the energy and passionate nature of the tea provinces of the middle Kingdom.